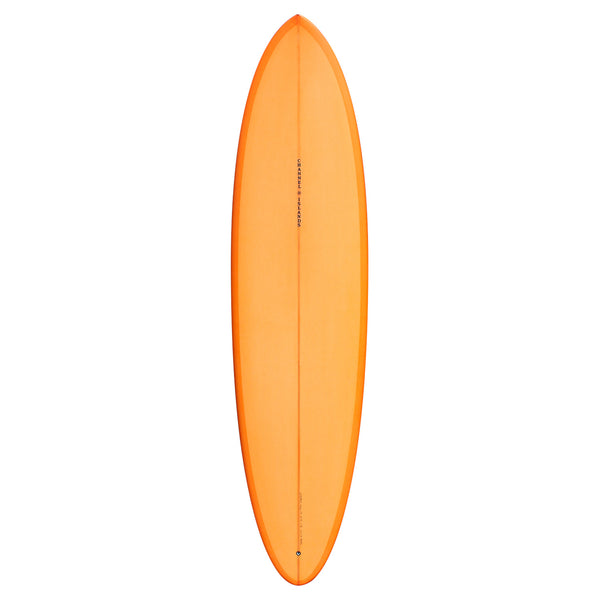 A modern classic inspired by traditional egg and single fin designs, the mid is a reliable all-round mid-length for a wide range of conditions.
Dimensions: 21 3/4" x 2 7/8" - 59.8L
2+1 FCSII Fin Set Up
fins not included
Availability:
Out of Stock – We understand the frustration when the product you're looking for is unavailable. At Down the Line Surf, we constantly update our inventory. New stock may be coming in soon. Give us a call on +44 (0)1736 757025 or submit your email below to be notified when new stock arrives. Thank you for choosing Down the Line Surf!
Designed in collaboration with Southern California surfer Devon Howard who has spent over two decades designing and riding egg-inspired designs. The CI Mid combines the classic clean, longer rails of traditional single-fins and eggs with the sensitivity and performance of modern surfboard construction.
The Mid features a low entry rocker and a touch more foam in the front for easier paddling and trimming. This combined with a double-barrel concave, gradually accelerated rocker, and hard slightly tucked rails through and off the tail.
A reliable mid-length that can fly in smaller weaker surf and flow and carve in large pumping point breaks.
UK Delivery for this product = £34.95 for Express Courier.
Generally all goods ordered before 1pm are sent out on the same day (Mon-Fri).
We offer a fast and efficient worldwide delivery service.
For International deliveries, the shipping will be calculated at checkout, together with any duties and tax. This ensures you have no unexpected charges when receiving your goods.. We guarantee you will have nothing extra to pay.
Check here for our full delivery information
If you have any questions about the Channel Islands CI Mid 7'6" Surfboard - Orange, submit the product question form below and we'll get back to you as soon as possible. Or give us a call on (01736) 757025.