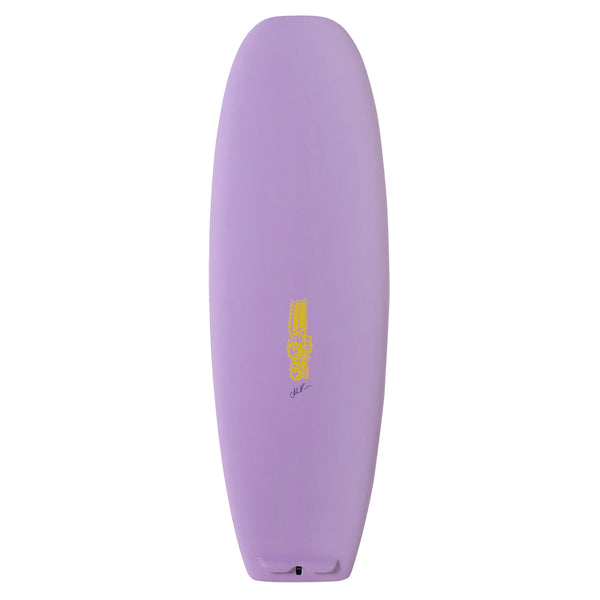 The Julian Wilson softboard is all about having as much fun as possible in waves that are small and weak (novelty waves). It features full length channels for down the line speed and a built in kick pad for stomping the back foot. Ride it as a twin, with two thruster side fins or ride it finless... if sliding backwards on a dry shore break is your thing.
It's also pretty tough with an EPS core and 4x4x4 glassing under the soft exterior.
Availability:
3 In Stock and ready for delivery
Board Dimensions (Current Stock)
Length

L

Width

W

Thickness

T

Volume

Vol

Fin System

Fin

Fin Setup

Setup

Price
4'10"
18 3/4"
2 1/4"
28.3 ltr
FCS 2
Twin-fin

$585.00

5'0"
19"
2 5/16"
30.6 ltr
FCS 2
Twin-fin

$585.00
Construction: Softboard: 3mm thermoform deck and rails, slick bottom, EPS Core with 4x4x4 glassing, Carbon Stringer
Rocker: Flat
Channles: Full length channels for extra down the line speed
Fins: Twin or finless
UK Delivery for this product = £19.95 for Express Courier.
Generally all goods ordered before 1pm are sent out on the same day (Mon-Fri).
We offer a fast and efficient worldwide delivery service.
For International deliveries, the shipping will be calculated at checkout, together with any duties and tax. This ensures you have no unexpected charges when receiving your goods.. We guarantee you will have nothing extra to pay.
Check here for our full delivery information
If you have any questions about the JS Julian Wilson Softboard, submit the product question form below and we'll get back to you as soon as possible. Or give us a call on (01736) 757025.